WINNER: Elizabeth South wins Best Cover of "Let It Go" in Ryan Seacrest Contest!!
Oh my gosh!! This is AMAZING! I WON the Best Cover of Idina Menzel's #LetItGo in the On Air with Ryan Seacrest Contest!!!!! This is because of all of YOU! I'm so happy, humbled, and honored!!! Thank you so much everyone for your kindness, support, and votes!!! You stood behind me all the way and we did it!
Snapshot from the Original Blog on RyanSeacrest.com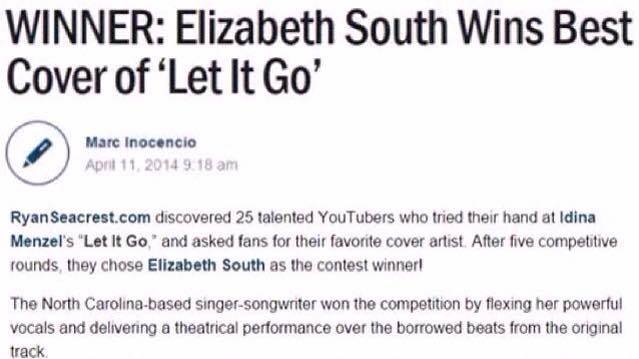 Thanks so much to Ryan Seacrest for choosing my Cover of "Let It Go" to be in this contest! I am truly honored and thankful to everyone who believed in me and voted for me! I am humbled to be the winner!! My Durham Academy students are absolutely thrilled and I recorded this song because of them!
So thank you everyone!! I also want to say that I believe EVERY single person chosen for this contest was amazing and that you are all Winners in my eyes!! Please reach out to me because I would love to get to know each and every one of you. God's blessings always! 🙂
THANK YOU ALL SO MUCH!!
Elizabeth South